WP Translate Pro
Translate Content

Select Language
Afrikaans

Albanian

Arabic

Armenian

Azerbaijani

Basque

Belarusian

Bengali

Bulgarian

Catalan

Cebuano

Chichewa

Chinese (Simplified)

Chinese (Traditional)

Corsican

Croatian

Czech

Danish

Dutch

English

Esperanto

Estonian

Tamil

Finnish

French

Galician

Georgian

German

Greek

Gujarati

Haitian Creole

Hausa

Hawaii

Hebrew

Hindi

Hmong

Hungarian

Icelandic

Indonesian

Irish

Italian

Japanese

Javanese

Kannada

Kazakh

Khmer

Korean

Kurdish (Kurmanji)

Kyrgyz

Lao

Latin

Latvian

Lithuanian

Luxembourgish

Macedonian

Malagasy

Malay

Malayalam

Maltese

Maori

Marathi

Mongolian

Myanmar (Burmese)

Nepali

Norwegian

Pashto

Persian

Polish

Portuguese

Romanian

Russian

Samoan

Scots Gaelic

Serbian

Sesotho

Shona

Sindhi

Sinhala

Slovak

Slovenian

Somali

Spanish

Sudanese

Swahili

Swedish

Tajik

Telugu

Thai

Turkish

Ukrainian

Urdu

Uzbek

Vietnamese

Welsh

Xhosa

Yiddish

Yoruba

Zulu
WP Translate is a Google Translate WordPress Plugin.  Dynamically add a Google Translate widget that can be used in the side bar of your site.  The default Google Translate toolbar button can also be added to the upper right of your users screen.  See the Widget version!
The pro version also gives you a shortcode option that can be added to individual pages or posts. The WP Translate shortcode adds the translation drop-down widget to you page content, like the one at the top of this content.
With WP Translate your visitors will be able to translate your website content to their own language.  Bring your website to the global market today!
Need more features?  Upgrade to WP Translate Pro
$9
Or try the free version of WP Translate.
Language Translation Example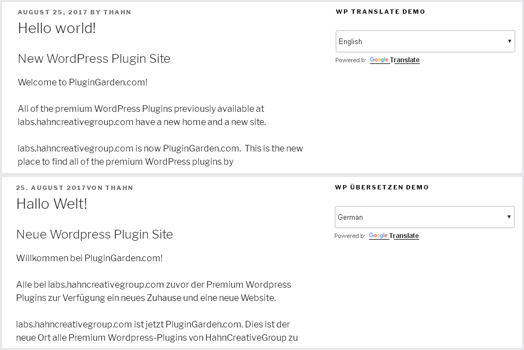 Features of this Google Translate Plugin:
Set default language
Track translation usage with Goolge Analytics
Enhanced widget positioning
Google Analytics integration
Upgrade to WP Translate Pro
$9
Pro Features include:
Short code to add Google Translate widget to page or post content. This will prevent top toolbar from showing.
Widget for adding translation drop-down to sidebar. Also overrides Google Translate top toolbar widget.
Hide the top toolbar – prevents the top toolbar from showing when using Widget version.
Translation usage events can be found in your GA account by following the path below:
Content > Events > Top Events > Google Website Translator > Translate
WP Translate is available for free in the WordPress plugin repository.
$9
WP Translate change log
4.9.6
fixed admin ajax so it only appears on plugin overview/settings page
4.9.5
fixed bug in options setting code
code restructuring and optimizations
4.9.4
fixed toolbar display bug
updated links
v4.9.3
fixed broken links in plugin info section
v4.9.2
settings changes converted to use AJAX
v4.9.1
v4.9
refined UI for better user experience
v4.8.2
fixed hard-coded image paths and file paths
sanitize input fields to possible prevent XSS vulnerabilities
v4.8.1
v4.8
Added widget functionality that presents visitors with drop down for translations instead of tool bar
v4.7
Added setting to default Google Translate toolbar open or closed
Added setting to include or exclude mobile browsers from seeing translate tool bar
v4.6
v4.5.2
Verified WordPress 3.9.2 compatibility
v4.5.1
v4.5
v4.4
v4.3.5
Code to escape html attributes added for security
v4.3.4
v4.3.3
Added Windows Phone to list of excluded mobile browsers
v4.3.1
Fixed bug preventing widget from showing
v4.3
Exclude from mobile browsers
v4.2
Prevent the translation bar from blocking the profile menu of the admin bar when logged in
v4.0.1
Code refinement and bug fixes
v4.0
Added Google Analytics Integration
v3.0
Tightened security to prevent cross-site scripting attacks
v1.0
Added ability to select default langauge
v0.5